Matched Betting Is Not Gambling
Matched betting is nothing to do with gambling, despite what the word 'betting' would suggest.
Matched Betting Australia teaches you exactly how to place matched bets that turn bonus bets into profit, no matter the result of the event.
We specialise in many sports including AFL, NBA and NRL as well as racing!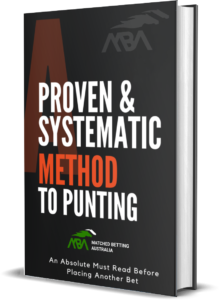 For a strictly limited time you can get a FREE copy of this scandalous free report. In this eBook you'll discover:
The smartest way to to bet this weekend while sitting on your couch – you won't believe how easy it can be for you to start applying the knowledge from this free ebook!
How to avoid getting your betting account shut down by the bookmaking agencies
The fastest way to start earning a second income every week
Testimonials
"Hey guys, site looks cool! Very clean and easy to use, keep it up. Plus, Richard always helping me on live chat which is a big help."
"Thanks for all the free help, the intro to MB has been great!"
"Thanks to you lads for letting us know about that crazy Bluebet offer of $1200 the past few weeks. Literally only site on Aus that actually had this offer available, and myself and a few others all profited $800+ cause of this! Keep it up, look forward to more profits coming my way!"
"Thanks for all the feedback guys! Hopefully some more improvements will come to the site shortly."
"These guys sat with me for hours the other day on Twitter helping me through a few issues. What lads. Cheers guys!"
"Easy and simple to follow site guys, much appreciated! Been looking for a professional free MB site finally found one."
"Thanks for the help. I had a few dumb issues caused by my errors and you helped me through it all. Here's to a good future of beating the bookies! =)"
"Past few weeks have helped me a lot man. Thanks for the effort you guys put in with daily reloads and chatting with myself on live chat about matched betting and other bullshit of life =)) Thanks!"
"Think this is the only free to use MB site where you can get help from the guys on the spot through live chat. Has saved me one one or two occasions. Thanks a lot Richard, defos makes it easier for me and am sure for others. "
"Hi there. Love the free to use site, Defs a great place to start matched betting. Am slowly learning the ropes etc. Thanks for the help!"