Horse Racing Refunds Guide
What are Horse Racing Refunds?
Horse racing refunds are a type of daily Reload Offer which quite a few bookies have available for existing customers. We use the same matched betting techniques as done in our Signup Offers to take advantage of these offers.
How these offers work is that bookies basically offer us a refund on certain races in the week if our selection comes in a certain place. Most bookies offer refunds if your horse comes 2nd or 3rd. These refunds range from $50 up to $100 per race, so can be very profitable!
Type of Offers & Bookies
There are usually three types of horse racing reload offers:
Refund if your horse comes 2nd, 3rd or 4th (varies depending on bookie);
Refund if your horse wins a race;
Refund if your horse does NOT win a race (risk-free)
The most common bookies that you will see under our horse racing reloads are usually:
Neds – Refunds if horse wins or comes 2nd / 3rd
PointsBet – Refunds if horse comes 2nd, 3rd or 4th
SportsBet – Risk-free offers and refunds if horse comes 2nd / 3rd
Ladbrokes- Risk-free offers and refunds if horse comes 2nd / 3rd
How do we approach these offers?
Please note – we advise you to only attempt horse racing refunds if you already feel comfortable with matched betting and you are able to find and place bets with confidence and ease.
OFFERS TYPE 1 OR 2:
For these offers we will simply back and lay a horse for the particular races which have the refund offers. Stick to lower, tighter odds. If our selection comes in the required place, we will receive a bonus bet or bonus cash and wager through this once to get our profits.
OFFERS TYPE 3:
This is a risk-free offer, so we have to change our tactic a bit.
Often we will come across bookies who offer a refund if your horse does NOT win. To lock in a profit, we will change our calculator mode to "SNR" and go for horses with higher odds.
This then locks in a profit if our horse wins as we have placed a smaller lay stake at Betfair. If our horse does not win, we have not made a profit, but have the bonus bet to come.
Tips
Try and pick one of the top 4 horses as this increases our chance of hitting a 2nd or 3rd place.
Horse racing odds are at their best from about 15 minutes before the start of the race.
Horse racing odds move faster than other sports, so be quick and focused.
Remember – we will not always hit our refunds and it is common for us to go a few races without one. If you keep your qualifying losses within the acceptable range then these offers have a long-term profitability.
Good Horse Racing Tools To Use: 
1. Bonus Bank: Horse Power
HorsePower is a tool created by the Bonusbank team.
Basically, if you are doing any horse racing promotions, then you can add this Chrome extension to your PC.
It helps you quickly find good matches, and calculates the correct lay stake for you!
It also opens up all the required tabs, so your time is saved heaps.
Bonus Money have a free Chrome extension which they call Matcha.
This allows you to see a direct comparison between Betfair and bookie prices in the horse racing markets.
How it works is when you are on a bookie horse racing page and are looking at a race, an extra display line will appear beneath the horse information, showing you the Betfair price.
This is really helpful as horse racing odds do tend to move fast!
My favorite Horse Racing piece of software in the Australian Matched Betting scene.
Keeping qualifying losses low is important
Remember that we are not guaranteed to hit a refund every time. These offers have good long term value if we manage to keep our qualifying losses as low as possible. Only go for tight odds horses. Be patient and keep an eye on the race from 15 minutes from the start and you will almost always find good odds to use.
Betfair commission for horse racing
Betfair Exchange AU charges a different commission on horse racing depending on the state and race code.
To find this information, simply click on the tab labelled "Rules" on each race. The Market Based Rate will be clearly shown to you. That is the commission you enter in the calculator. Below is a screenshot of Betfair's horse racing commission structure.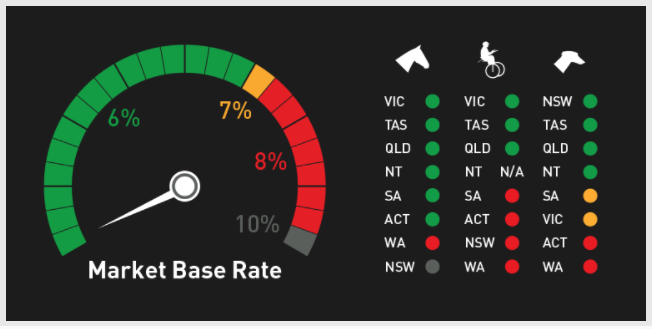 Conclusion
With these horse racing offers, hitting refunds is the key to us making money.
See our daily Horse Racing Refunds page to stay up to date with all current horse racing offers available.
Remember it is quite normal to go through spells where we do not hit any refunds, then suddenly we hit two or three in a row.
A few bookies usually have these offers at the same time, so we can often combine them and get on a few horses per race with various bookies.This increases our chance of getting a refund and reduces our Betfair liability.