Bonus bets vs bonus cash
You will either see one of two types of offers as you go along signing up to all the various bookmakers:
Deposit and bet through X to receive Y in bonus bets; or
Deposit X and have it matched by Y amount of bonus cash
BONUS BETS:
The biggest difference is bonus bets get placed separately and need to be placed using the SNR (stake not returned) mode on the calculator at preferably high odds.
BONUS CASH:
Bonus cash can be bet exactly the same way as real cash, with calculator on "Qualifying Bet" mode.
Do not worry too much at this moment, as we will always explain this clearly in each and every offer.
Always keep an eye on your calculator mode, as this affects your lay stakes.
Selecting an outcome for our bonus bet
We will use the same example as in the qualifying bet strategy section with one exception. Now we are using our bonus bets and therefore want to extract as much profit out of it as possible.


With bonus bets, we want to go for higher odds. Although it is up to you how high you want to go as the higher the odds, the more liability you have in Betfair. For purposes of this example we decide we want to bet on the draw with our bonus bets.
So we follow the exact same process as in the previous section, with one exception – our calculator mode is now set to Bonus Bet (SNR). SNR stands for Stake Not Returned as the terms of the offer state that when we place our bonus bets the stake is NOT returned.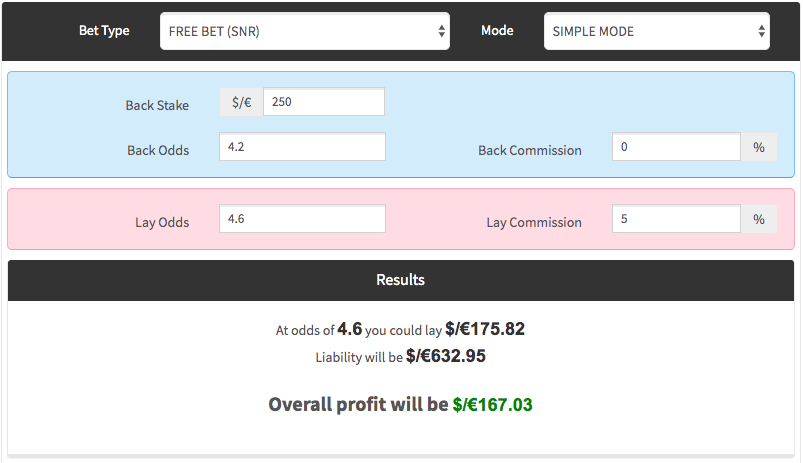 As you can, at these odds our overall profit is $167 which is just under 70% of our bonus bet stake of $250. Ideally we want to extract anything over 70%.
Now we follow the exact same procedure as before, except in William Hill you will be using your bonus bets instead of any real cash.
Once this is settled you are done with the offer, leaving u in profit of $167.03 minus our previous qualifying loss of $5.63 = $161.40
Conclusion
Bonus bets requires us to use higher odds for higher profit. If your bankroll is a bit limited, then choose events with lower odds and try get as good a match as possible.