Bonus Money Review 2021
UPDATE!
Bonus Money are now offering all Matched Betting Australia members a 50% discount on their 1st MONTH of their premium membership!
Bonus Money also has an exclusive offer with Matched Betting Australia and anyone who uses the coupon code MBA21
Simply sign up to their premium service using and you'll get a 50% Off their 1st months membership. 
Remember you can only use the promo code once. 
Today I am giving you an honest review of one of Australia'a premium matched betting services, Bonus Money.
If you have been searching the web for premium matched betting services that operate in the Australian market, then you definitely would have come across Bonus Money.
They were founded by a group of seasoned matched betting pro's from the UK, and have put themselves right up there as one of the best matched betting services in Australia.
Moving on from Matched Betting Australia to Bonus Money
Here at Matched Betting Australia we will never charge a cent for anyone to use our site or to become a member.
Our goal is to introduce people to matched betting and teach them the basics of how one can make some extra money by using this technique.
If you are one of those people who has been using our website for a while, done the signup offers and are looking to get even more serious about your daily matched betting, then Bonus Money might just be for you.
They currently charge $49 a month, but you get your first month for $24.50 when using the coupon code MBA21 at checkout.
Let's dive into a few of their key matched betting tools that they have on offer!
Features
1 – ODDSMATCHER:
The Bonus Money oddsmatcher is exactly as you would expect. It does the job of finding close matches, and has filter options so you can get real specific on what you are searching for.
For example, you can filter which bookies to look for, which min & max odds, time period, turnover % and more.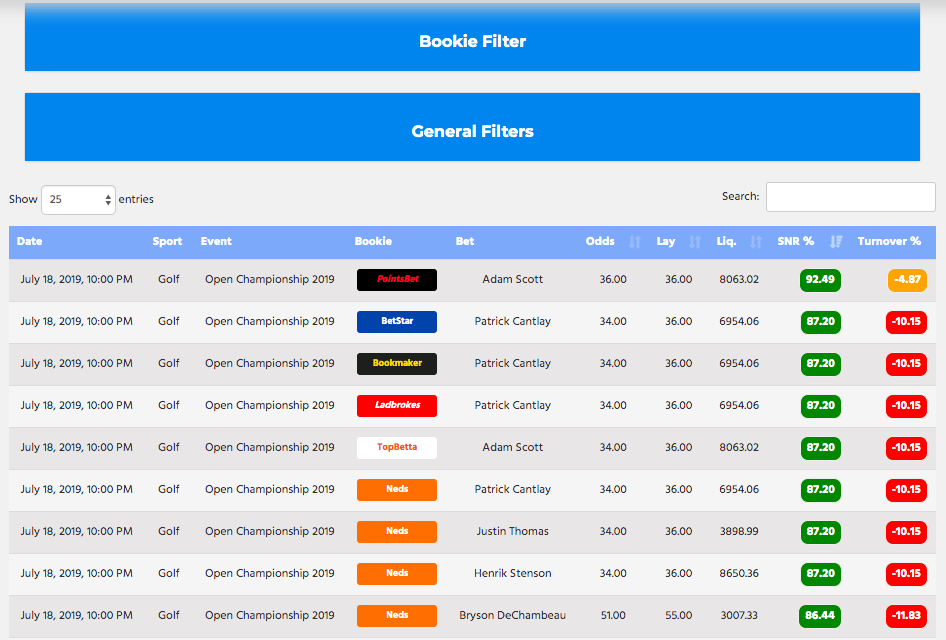 They also have a tool called a "Bet Finder" which helps with turning over bonus bets or wagering.
Here's a screenshot of it below. It's really helpful!
2 – MATCHA CHROME EXTENSION
Bonus Money have a free Chrome extension which they call Matcha.
This allows you to see a direct comparison between Betfair and bookie prices in the horse racing markets.
How it works is when you are on a bookie horse racing page and are looking at a race, an extra display line will appear beneath the horse information, showing you the Betfair price.
This is really helpful as horse racing odds do tend to move fast!
Here's an example of how it looks:

3 – VARIOUS CALCULATORS
Bonus Money have various calculators for specific types of offers, including:
Normal back & lay
Dutching
2nd / 3rd Place offers
Double winnings
Odds conversion
Expected value
4 – OFFER CALENDAR 
Bonus Money's offer calendar is like no other.
Each individual offer is presented in a simple format for you to check out, with their respective expected values added in.
You can filter the offer calendar by sport and by bookie.
It's really useful!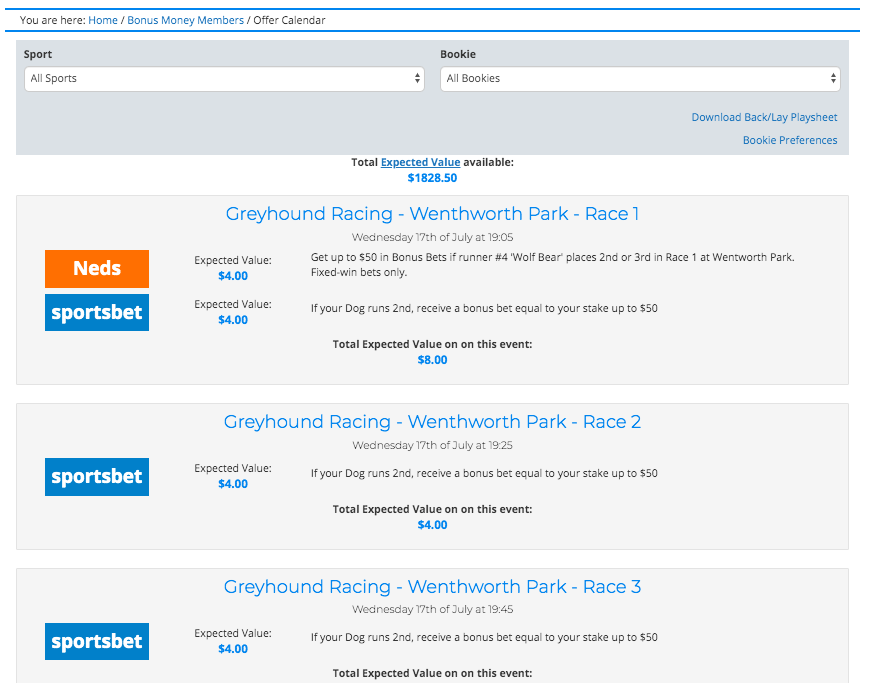 5 – COMMUNITY
Bonus Money have their matched betting community in the form of Facebook groups.
There's one group which is a free group for anyone looking at doing matched betting, then a second group which is only for premium members.
6 – GUIDES
On top of all the tools on offer, the guides which Bonus Money have are full of knowledge that will help you no matter where in your matched betting journey you are.
From getting started, learning the basics and making cash from daily offers, to gubbings, mug betting and more. These guides are there for you whenever you need some information.
Final Thoughts
Bonus Money could be worth your time if you plan on taking matched bettings seriously in the long term.
I know may people are skeptical to invest in a premium service, but the rewards are definitely worth it if you plan on working hard at it.
If you feel now is not the right time to go premium, then wait a bit until you have built up a bigger bank.
However, if you are ready to take the next step and make at least $1k+ monthly from matched betting as a side hustle, then consider going premium!
PS. **Remember to use the coupon code, MBA21 to get 50% off your first month with Bonus Money.