Bonusbank Review 2021
I am sure while many of you have been researching all over the web about matched betting in Australia you have come across Bonusbank.
They were the first website in Australia to get matched betting to be taken seriously and released some great tools such as an oddsmatcher software, various calculators and more.
They do, however, charge a monthly fee of $47, a six month fee of $225 or a yearly fee of $400.
So is it actually worth the money??
The answer really does depend on you.
Here at Matched Betting Australia we will never charge a cent for our services, but many do make the jump onto a paid service in order to take their matched betting to the next level!
If you are still a newbie and trying to find your feet, then I suggest waiting a bit first before moving onto a paid service.
Moving on from Matched Betting Australia to Bonusbank
UPDATE!
Bonusbank are offering all Matched Betting Australia members a 25% discount on their premium membership for the 1st MONTH ONLY! This promotion will only be in play from 01 February 2020 (ie. you can only get this discount if you sign up after 01 February 2020)
Simply sign up to their premium service using the promo code "MBA" and you'll get a 25% discount on their premium membership for the 1st Month. This code gets added under the "coupon" section when signing up.
Remember you can only use the promo code once. 
Here at Matched Betting Australia I will never charge a cent for anyone to use my site or to become a member.
My goal is to introduce people to matched betting and teach them the basics of how one can make some extra money by using this technique.
If you are one of those people who has been using my website for a while, done the signup offers and are looking to get even more serious about your daily matched betting then Bonusbank might just be for you.
Who are Bonusbank?
Bonusbank were started off by two guys, Nico and David, who had been introduced to matched betting back in the day in the UK.
It's no secret that the UK has been years ahead of Australia when it comes to matched betting. The good news, though, is that Australia is starting to catch up!
People in Australia and New Zealand are finally starting to realise the value of matched betting and are starting to take advantage of it!
With time Bonusbank have added new feautures to their website which will be discussed below.
Bonusbank Features
1 – ODDSMATCHER:
Their ATM compares all of the bookies across Australia to ensure we get good matches for our bets.
On top of the ATM, Bonusbank also offers an ATM Alert feature.
This is a basic Chrome extension which allows an alert to be sent your way when a certain match occurs based on your criteria.
2 – HORSE POWER
HorsePower is a new addition by the Bonusbank team.
Basically, if you are doing any horse racing promotions, then you can add this Chrome extension to your PC. It helps you quickly find good matches, and calculates the correct lay stake for you!
It also opens up all the required tabs, so your time is saved heaps.
3 – DUTCHING SOFTWARE
Dutching is the process of covering all outcomes across various bookies to lock in a profit. This usually occurs when a bookie is slow to update its odds.
4 – VARIOUS CALCULATORS
Bonusbank have various calculators for specific types of offers, including:
Normal back & lay
Dutching
Early payout
Multi's
Expected value
5 – DAILY OFFERS
They have a section called "Today's Plays" which is updated daily showing the best 2 or 3 offers to go for each day. Bonusbank show you how to dutch these offers and be able to hit some big trigger refunds. This can often be of good value and worth going after.
Here's an example of their Daily Plays: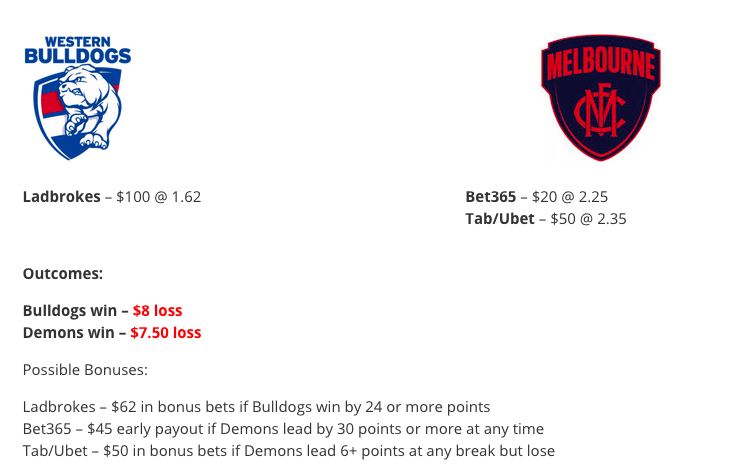 Had you followed their Daily Play's every single day, you would have made at least $28k profit in the past 24 months. Pretty impressive!!
They also add various other promos during the week which they think will be of best value to you.
6 – BONUSBANK COMMUNITY
As Bonusbank is already well into its second year, they have built up a decent community of matched bettors.
Their forum is constantly active and contains heaps of knowledge!
7 – LIVE CHAT FEATURE
They have a really cool chat room for premium members on their website.
This is really helpful as you can remain on their site to find bets, use the tools and ask fellow matched bettors questions as you go along!
They are the only premium matched betting site that offers this service.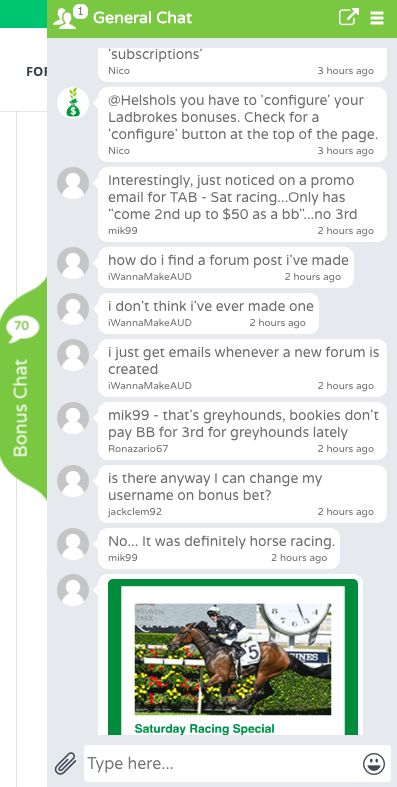 8 – THE LEARNING CENTRE
Bonusbank have an entire section dedicated to teaching you everything you need to know about matched betting.
From getting started, all the way to becoming a pro!
They have a whole bunch of video tutorials, plus a knowledge base containing all the ins and outs you need in order to make money from matched betting.
Final Thoughts
As you can see Bonusbank does have some pretty cool features to help you with matched betting.
Now that you are given a 25% discount on your 1st MONTH for the Premium subscribtion, I highly recommend you give it a go for at least 1 Month! 🙂
If you like what you see, you can continue using them but please note the discount wont apply for the 2nd month onwards..