Below we will show you how to approach your first Matched Betting signup with BetEasy using Betfair Exchange.
We advise going through each step slowly and refer back to any of the guides as many times as needed. If at any time you are stuck or confused please feel free to contact us.
Step 1: Open up a Betfair Exchange account
Click the link below and open an account with Betfair. Fill out all required information and then come back to this page.
Step 2: Open up a BetEasy account
Open an account with BetEasy using the link below and deposit $50. You may select a bigger bonus if you have the bank for it.
BetEasy will match your deposit with a $150 bonus bet once your first deposit of $50 has been made. This needs to be wagered one time together with our qualifying bet within 7 days from date of signing up.
Our bonus bets get credited immediately after depositing, but we still need to wager through our original deposit of $50 otherwise this cannot be withdrawn.
Click on the "Claim Offer Now" button as seen below.
Fill in your details on the signup form.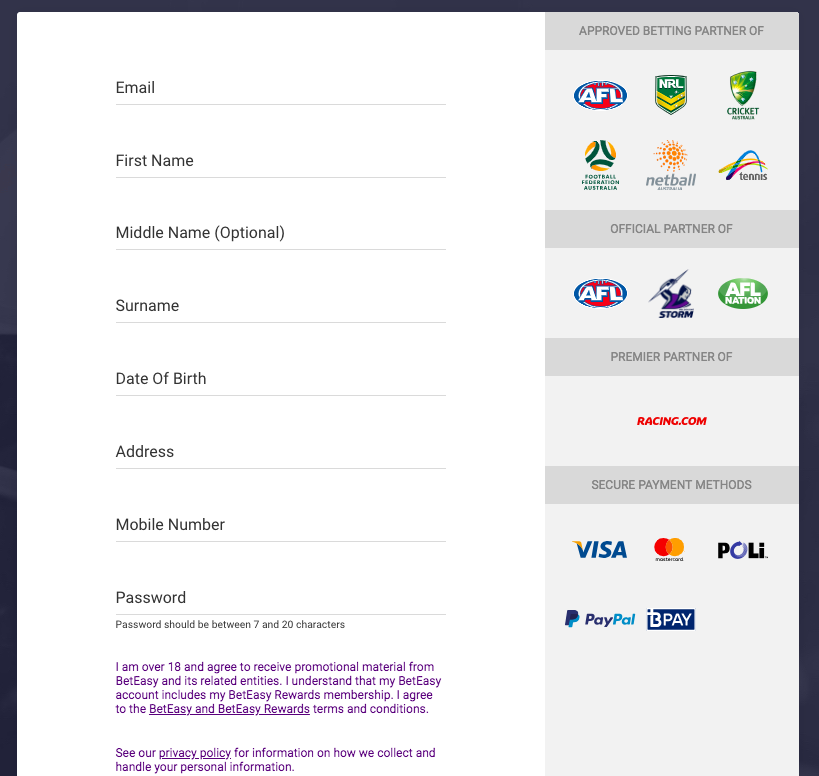 Step 3: Find and place our qualifying bet
Once we have opened our Betfair and BetEasy accounts, we are ready to place our first ever bets! We suggest keeping both your Betfair and your BetEasy tabs open to make it easy to find the best possible matches.
We need to check the Ts & Cs of BetEasy before doing the offer, as seen below.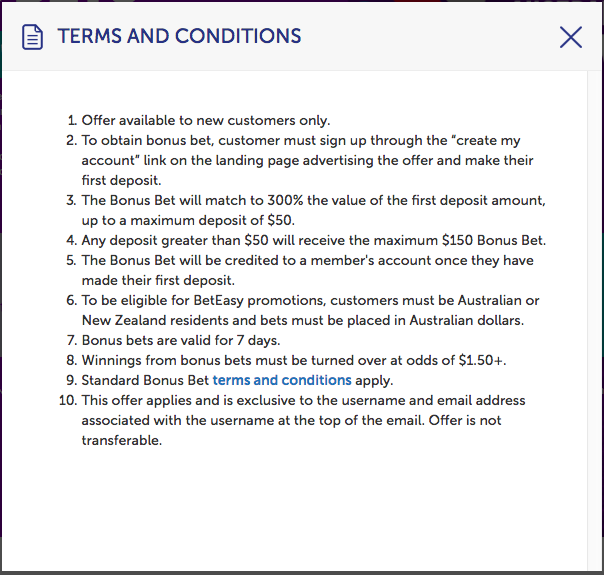 A few things to take from the terms & conditions:
We need to use our bonus bet within 7 days
Minimum odds are 1.50
Wagering of our bonus bets winnings is 1x
They state we need to simply deposit $50 and will then receive $150 in bonus bets. We need to bet through our deposit of $50 as a qualifying bet in order to be able to withdraw any money once we are done with the offer.
With signups, we suggest sticking to major sporting events with slow moving odds such as major English and European soccer leagues, or popular AFL and NRL matches.
We suggest leaving horse racing for the now, as these odds tend to move faster and one needs to first get used to the techniques involved before attempting horse racing. This will be covered at a later stage.
Below we have found a English Premier League soccer match between West Ham and Brighton.


We see that the West Ham market odds are looking quite close. We are placing our qualifying bet so we will be going for the lower odds.
Next we enter these odds into our calculator and see what our qualifying loss would be, as shown below.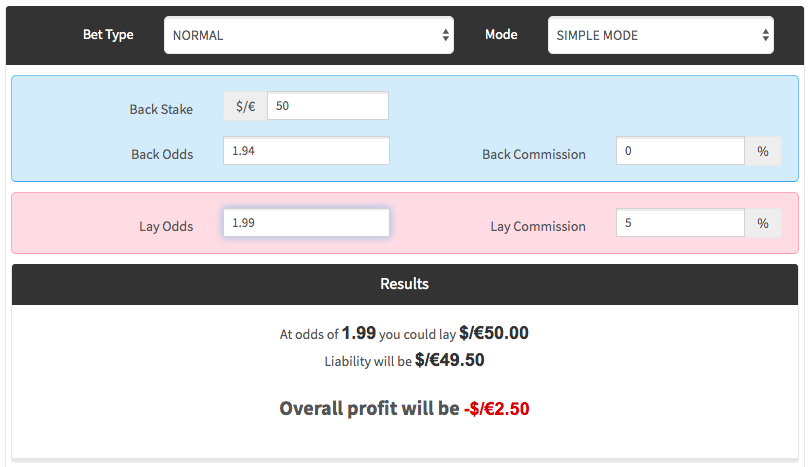 As we can see, at odds of 1.94 to back and 1.99 to lay our qualifying loss is $2.50 on a stake of $50. This is a loss of about 5%. We usually try minimise this loss as much as possible, but 5-8% is acceptable.
We are happy with this and proceed using this match.
Step 4: Calculate our lay stake
Use our Matched Betting calculator to calculate the lay odds:
Select "Qualifying Bet" at the top.

The bookmaker stake is $50.

Enter the BetEasy back odds.

Enter the Betfair exchange lay odds.

The lay commission is 5%.
The lay stake and the liability will be shown to you. The "liability" is the amount you need to deposit into the Betfair exchange. Deposit that amount.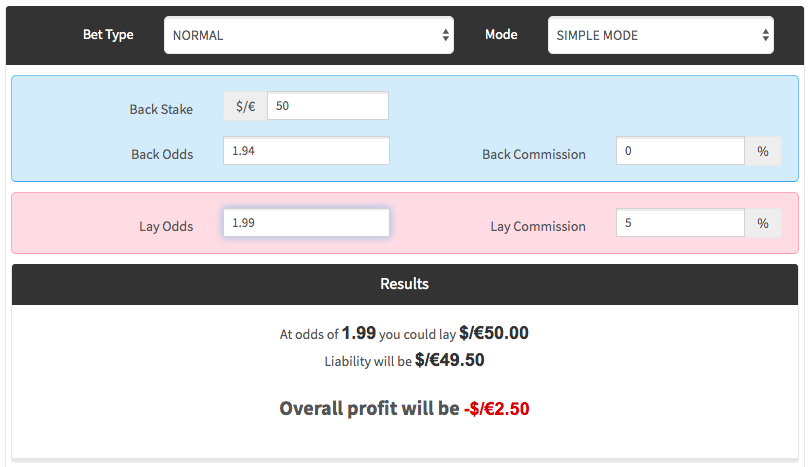 Our lay stake at Betfair will be $50 on the dot.
So for our qualifying bet we need at least $49.50 in our Betfair account to cover our liability.
Our qualifying loss is $2.50, which is normal. (Remember every qualifying bet will have a loss – this is a normal part of Matched Betting.)
Step 5: Place your bets
We will place our $50 back bet at BetEasy as shown below.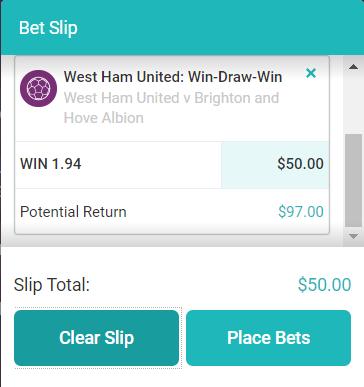 And place our lay bet at Betfair as shown below.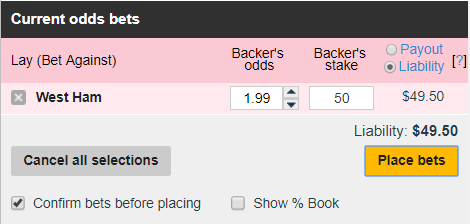 Now that our qualifying bet has been placed, we can go ahead and repeat the same process with our bonus bet!
Step 6: Extract profit from your bonus bet 
When using our bonus bets, the process is exactly the same as when we place our qualifying bets.
The only difference is with our bonus bets we want to try find higher odds to maximise our profit.
We try to extract 70-80% profit off our bonus bet which in this case would be about $110 – $130.
For this example, let's say we have found a European soccer match between Real Madrid and Levante.
Levante are at odd of 5 on BetEasy, and on Betfair they are at 5.1. Let's enter these odds into our calculator.
Remember – this is a bonus bet so we change our mode to Bonus Bet (SNR). SNR means stake not returned. This will normally be case. This can always be found in each bookmaker's Ts & Cs.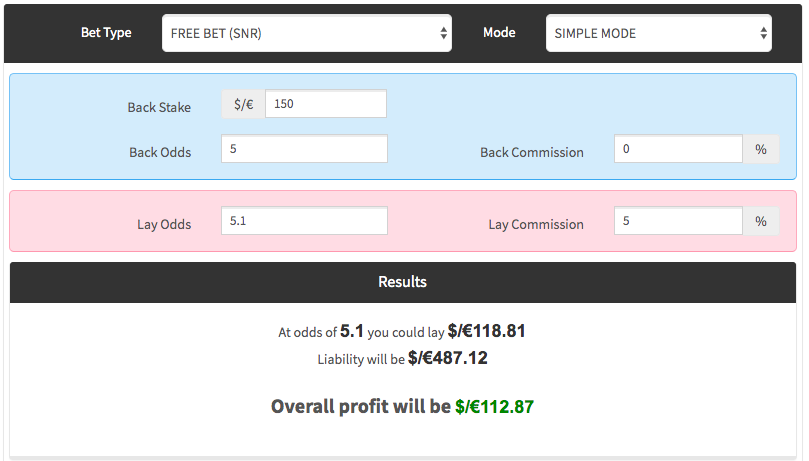 As you can see above, our profit will be $112.87. This is about 75% of our $150 stake, which is good enough.
We now go ahead and place our bets exactly the same way as we did in Step 5.
In your bet slip on BetEasy you will see an option to use bonus bets when placing bets. Click on this then place your bet. Remember we are not using our own cash here, only bonus bets.
Conclusion 
We have now completed our first Matched Betting signup offer. As you get more practice, the process of Matched Betting becomes easier and easier.
So our total profit from this offer is:
Profit from bonus bet :     $112.87
Qualifying loss:                  ($2.50)
Total profit:                     $110.37
So we extracted over 70% from our original stake of $150 which is acceptable.
Continue with more signups by clicking the button below.
If you have any questions please feel free to contact us!
PS – Remember to take your time, there is no rush!